Old Mutual's Bomb Scare-Coincidence?
---
Late Wednesday afternoon Old Mutual's Sandton office was evacuated following an anonymous call made to SAPS that there was a bomb somewhere in the building. No actual bomb was found suspicions around if anything about the bomb scare has to do with the temporary of Old Mutual CEO Peter Moyo.


Tuesday the Gauteng High Court in Johannesburg had ruled that the dismissal of Moyo from Old Mutual after what an official statement released in June stated as a


"material breakdown in trust and confidence"

led Moyo being fired. Also, the court has barred that the company from replacing Moyo in the interim. The company has said that it would be appealing the decision.


While trying not to lean too far into conspiracy theories surrounding the bomb scare and having Moyo return to his Old Mutual office for many does seem unrealistically uncoincidental. Although not at any point should the scare be exaggerated it is rather interesting to consider two things. The first is the possible use of the scare to display the more than rocky relationship Moyo now has with the Old Mutual board which creates a hostile working environment. Old Mutual's stock fell 11% since Moyo was first suspended in June, and bomb scares coinciding with Moyo's temporary reinstatement may not bode well for its stocks.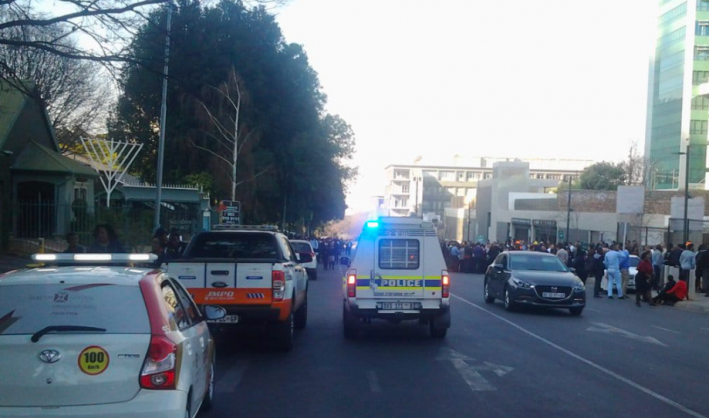 Second thought of the continued use of the police as a tool in political and business disputes. Police reputation aside, the is a building history of the usage of police in political disputes which may be steadily spreading to the private sector. The deployment of the police as a possible means to distract public attention away from Moyo being temporarily placed back on his seat feds into the broader argument of the use of state resources as means to settle political and business disputes that have very little to do with the state, if anything at all.


In an unimaginative stretch, the bomb scare could also be used to evoke questions around the state of South African security. Arguable South Africa could be said to be lacking security due to it enjoying limited run-in with major security threats. Still, a bomb scare in Sandton should not be stretched so far to give it impact on the state of South Africa's security.

-JP
Article Tags