Simple Everyday Make Up Routine To Get You By This Festive Season.
---
Mihlali Ndamase hailing from Kokstas in Kwa Zulu Natal is a prominent South African YouTube personality, make-up artist and social media influencer. Well known for her makeup video tutorials on YouTube. She holds a makeup diploma as well as a BA in Strategic Brand Communications. Today we explore a simple everyday make up routine from one her videos, to help all the ladies to get the best face beat which will turn heads in the dawning of the festive season.
1. Use Prima to motify oily zones
Maddie Felton from Adore Beauty says
Primer
is designed to keep your skin shine-free and matte for hours. Applied properly, the best blurring primer for oily skin helps your makeup apply smoothly and adhere well for a long-lasting, even finish. Silicone-based or not, a primer for oily skin is a fast-track way to even-looking skin.
2. Foundation for covering acne scars blend with brush
According to vogue the best technique for applying foundation is to apply it from the center and move outward
Start in the center of the face, on the apples of the cheeks, and slowly blend out they instruct that another key part of the face is the area around the mouth, which is prone to yellow undertones and shadows.
3. Use Concealer stick to highlight face and blend with beauty blender
Beautbloender
experts say that the second-biggest mistake people make when learning how to apply concealer like professionals is applying it first. They advice that you should always apply foundation first for 3 reasons:
1. It gives you a base to blend with your concealer using your Beautyblender Micro Mini.
2. It helps even out discoloration.
3. It hides darkness and imperfection
4.
Use stippled brush to go around the highlight to ensure you don't have harsh lines around your face.

For those who might be struggling with differentiating brushes.
Colorescience
defines a stippled brush has a striking appearance—the fibers are of two distinct lengths. The bulk of the brush is full fibered and tightly packed with longer fibers interspersed. Stippling brushes are great for layering different levels of makeup. Primer, foundation, and blush can be seamlessly worked together with this type of tool. They advice that while stippling brushes can be used with powders, its best use is for liquid cream foundation or cream blush products. To use, put cream blush or foundation on the back of your hand, carefully dip the brush into product and stipple onto face.
5. To set highlight use banana powder
Put it all over the areas you placed your concealer highligh on and blend center of your fore head with powder brush
'The mattifying powder can both set your makeup and contour your face It can be applied after slathering on a creamy concealer to help ward off creasing and prevent the concealer from setting into fine lines. It also helps to reduce the appearance of an oily complexion and color-corrects visible redness on the skin. But the main function of banana powder is to act like a highlighter and make skin glowy all over " Michelle Persad in Keeping up with the kontouring
6. Prep Eyebrows and fill them in with eyeliner
Prepare eyebrows with spoolie brush, fill them in with eyeliner and highlight under and above eyebrows.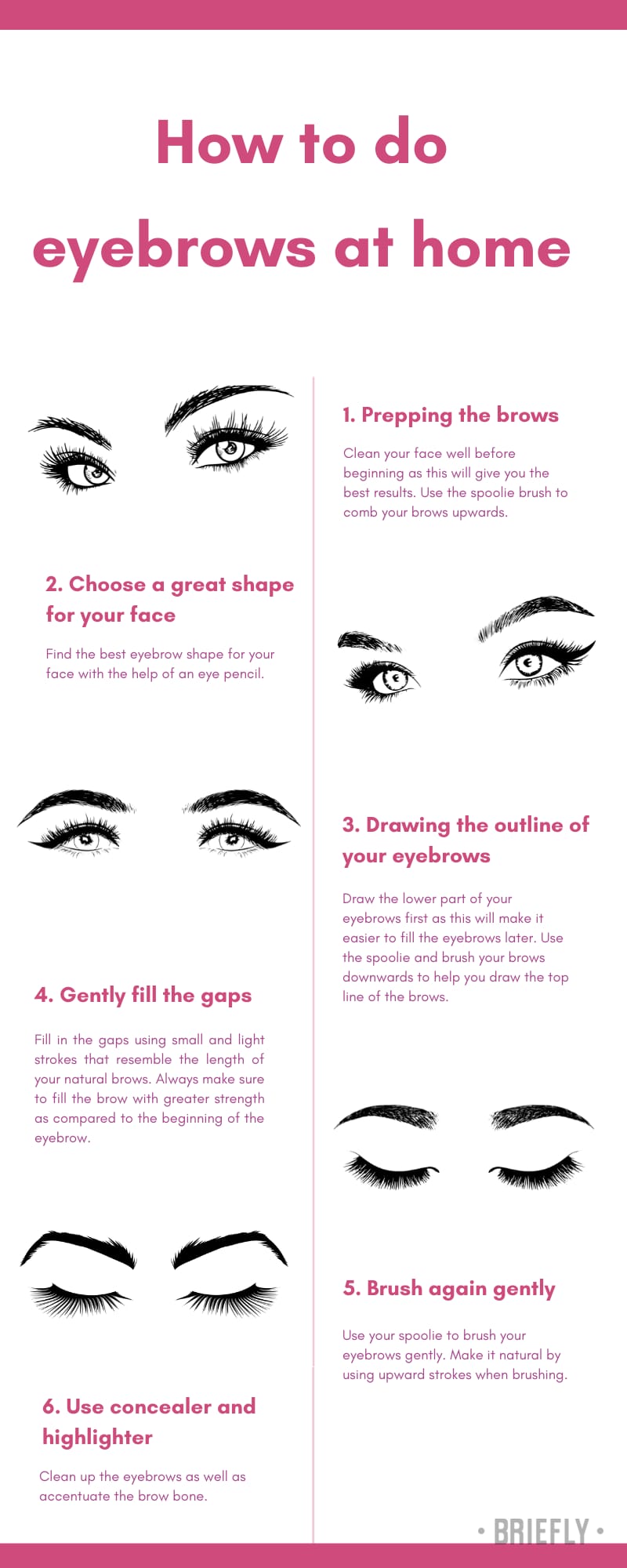 7. Contour face with concealer
According to Marisa Petrarca from Lo'real this is the easiest way to hack this trick :
Once your foundation routine is complete, use your darker concealer on your cheekbones and on the sides of your nose for definition and on your temples to sculpt. Depending on your specific face shape, you might want to adjust where you place the darker concealer. For example, if you have a diamond-shaped face, we recommend starting at your temples, but if you have a heart-shaped face, start at your forehead.
8. Put on blush of your choice
"Use sheer blush tones and build pigment on the apples of the cheeks until you get the desired color that you're looking for. It's much easier to build and blend color than it is to take away. If you're fair skinned, try a soft light pink or peach color, one that looks natural. If you have olive skin, opt for warmer tones with bronze, and if you have a darker skin tone you can play around with berry and plum like colored blushes for a nice pop and highlight of color" Ashley Rebecca Contributor for Birdie Covering up Make Up

9. Put on Your Mascara
Here's a tip from IPSY on how to apply Mascara like a pro:
look up, place the wand at the base of your upper lashes, and wiggle it back and forth, coating the base of your lashes. Then pull the wand upward towards the tip of your eyelashes, making sure you're coating every part of your lashes as you pull through and moving slowly to avoid clumping.

10. Put your lip color of your choice

11. Setting Spray
According to Mihlali this is one of the most important steps to ensure that your make up lasts longer, especially in summer.

These easy eleven steps are all you need, to help you get by this festive season or in your everyday life looking extra beautiful and flawless.



Article Tags