Once a modest, sleepy fishing village on the coast of Tanzania, Dar es Salaam has transformed into a bustling metropolis with a variety of craft markets, restaurants, and beaches to explore. At night, travelers will be charmed by the town's down-to-earth vibe and its range of English and African bars and clubs. Whether you're looking for a crowded dance floor, or a casual joint to take in a sports game and watch the sunset, we've covered the best bars in Dar es Salaam to suit the style and mood of every traveler.
High Spirit Lounge Bar

Located on the top of the IT Mall building, High Spirit Lounge Bar gives off a cool, modern vibe, with disco lights helping you shine on the dance floor and beautiful views of the ocean to frame a flirtatious meeting. With excellent Mediterranean cuisine and a solid selection of both wine and beer, this open air rooftop is the perfect place to sit back and unwind beneath the stars. If you've got energy to burn, their mix of Western and African music will keep you moving all night long on their gigantic outdoor dance floor.
Samaki Samaki


Samaki Samaki serves excellent seafood in a pleasant atmosphere by day, then changes gears and starts to heat up as a bar around 10pm. A big hit with the locals, you'll find it packed to capacity on the weekends, making this the place for you if you're looking for a wild, loud, fun night of dancing in the city. Head there on a Thursday night for some salsa dancing. Price: Mid-range Hours: Sunday-Thursday 10am-1am, Friday-Saturday 10am-3am Watch out for: Salsa dancing on Thursday nights.

The Waterfront Sunset Restaurant & Beach Bar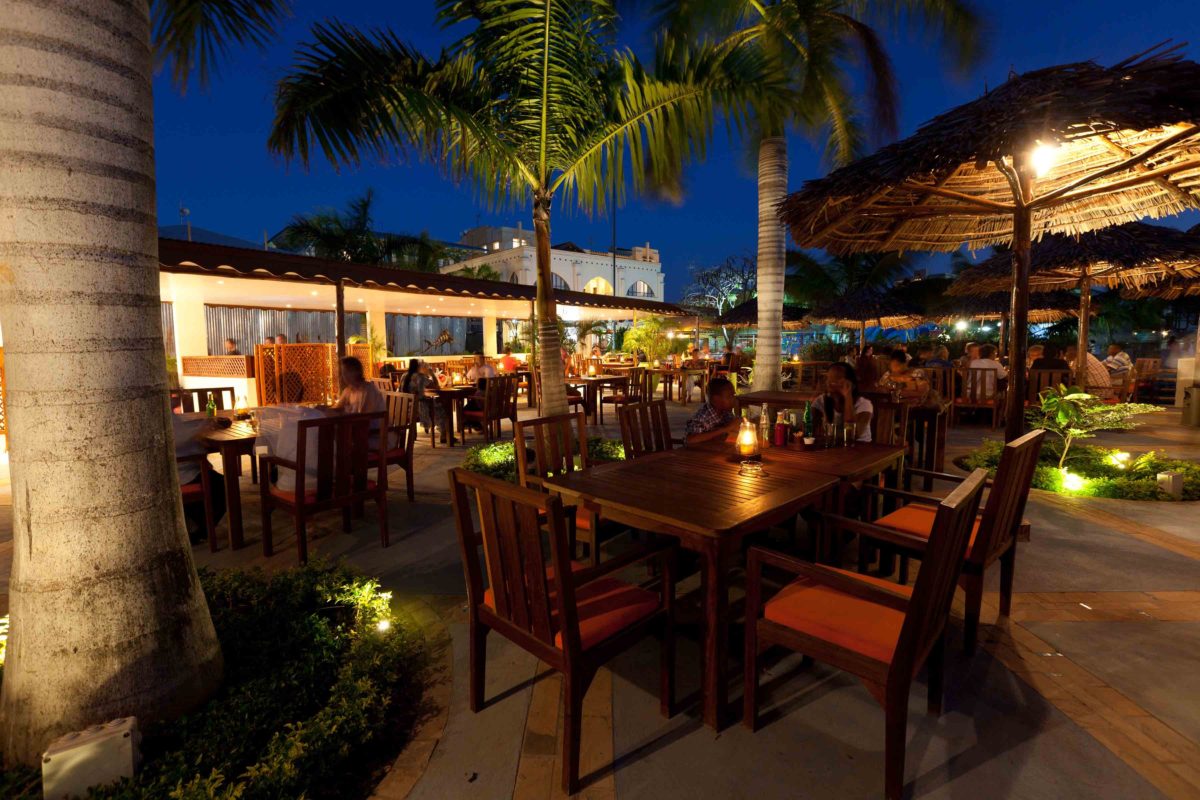 Located at the Slipway, Dar es Salaam's premiere shopping and leisure center, The Waterfront Sunset Restaurant & Beach Bar offers guests a great evening right on the beach. The views alone make this bar well worth the trip, and the welcoming ambience set by the service, sunshine and local drafts will make you want to stay well after the sun has set over the ocean. Tired travelers will find a much-needed respite in this beautiful, relaxed setting.

Level 8


Situated on the eighth floor of the Hyatt Regency Kilimanjaro Hotel, Level 8is one of Dar Es Salaam's most elegant bars, partly thanks to its gorgeous 360 degree views of the city and harbor. Relax with a cold beer in hand, listen to one of the live musical acts they bring in throughout the week, and enjoy the Tanzanian sunset from every angle.

Kilimanjaro Casino


Located within the Hyatt Regency and part of the Odyssey International group of casinos, Kilimanjaro Casino blends Old World sophistication with upmarket modernism for a classy night of games, bets, and rising stakes. The house offers everything one would expect, from roulette and slots to blackjack and Texas hold 'em. Players of all levels are welcome here, from seasoned gamblers to novices banking on beginner's luck, so grab a drink and try your hand at winning the jackpot!
-JP